By West Covington, Capital Formation - Private Wealth
Investment in private equity real estate (PERE) has evolved from a niche asset class into a mainstay of institutional portfolios. According to Preqin, a data provider for alternative asset classes, PERE investments have ballooned to more than $1 trillion, from just $64 billion 20 years ago.
With almost sixty years of experience managing risk and providing strong returns in the asset class, Grubb Properties has seen this growth first-hand. In our view, PERE offers four key differentiators:
1. Relatively low volatility
PERE returns have remained competitive over time with substantially lower volatility than the other major asset classes. In the chart below, the Standard Deviation of Annual Return is a measure of volatility, while the Sharpe Ratio is a measure of risk-adjusted returns. For volatility, the lower the percentage the better, for the Sharpe ratio, the higher the ratio, the better. The National Council of Real Estate Investment Fiduciaries (NCREIF) has a 9.3% annualized return, second only to stocks, with the lowest volatility and the highest risk-adjusted performance.
2. Stable long-term performance
Over time, PERE has produced competitive returns while providing diversification for institutional investors. As you can see in the chart below, although the one-year performance is up significantly against other asset classes, the NCREIF is very consistent in its return profile compared to the other asset classes over various time frames.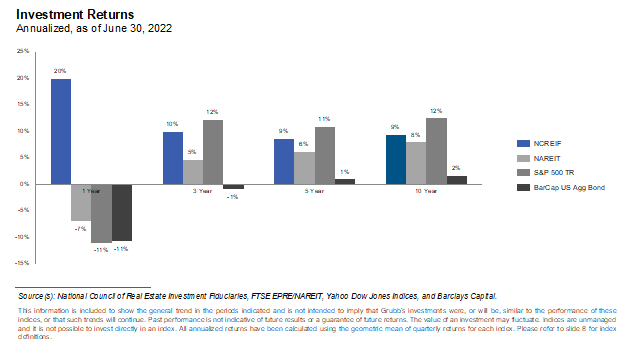 3. Superior performance in down markets
Historically, the PERE in the US private equity real estate has low correlation compared to traditional asset classes and has performed well in down markets. Given the national housing crisis and our emphasis on providing essential housing to fill that gap, we're confident this trend will continue.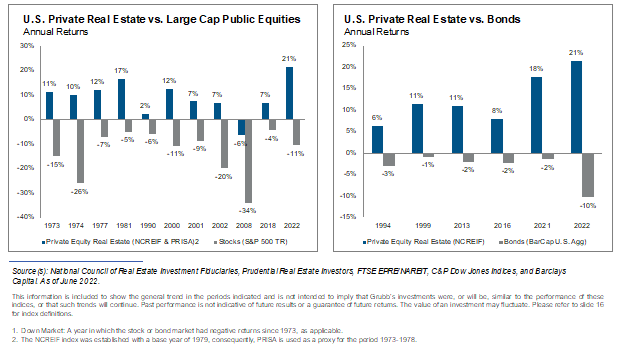 4. Protection against inflation
PERE has provided protection in periods of high inflation, while maintaining respectable returns when inflation has been low.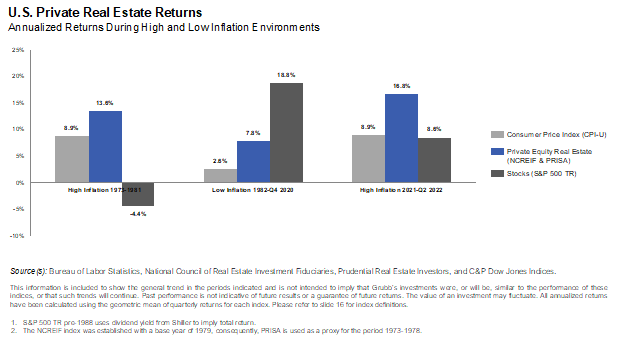 Private equity real estate can offer important diversification to an investor's portfolio. To learn more about private equity real estate investing opportunities with Grubb Properties, click here.