By Grubb Development Team
Designed with an eye to the past but with all modern conveniences, Link Apartments℠ Linden in Chapel Hill, NC is one of the most recent embodiments of Grubb Properties' successful essential housing strategy, providing apartments targeted to those in the middle of the income spectrum. The 5-story building offers 215 apartments, including 25 junior one-bedrooms, 110 one-bedrooms, and 80 two-bedroom units, as well as a clubhouse and pool. 
Fast Facts:
Name: Link Apartments℠ Linden
Address: 100 Brandon Road, Chapel Hill, NC 27517
Developer: Grubb Properties
Number of Units: 215
Unit Breakdown: 25 junior one-bedrooms, 110 one-bedrooms, 80 two-bedrooms
Architect: BB+M Architecture
Contractor: Samet Corporation
Featured Community Amenities: Saltwater pool with sundeck, pet park and spa, outdoor fireplace, two 24/7 fitness centers and yoga studio, cycle center with work station and storage, demo kitchen, club room, coworking room, convenient locker package room, two rooftop lounges, EV charging stations, and EV car share
Featured Apartment Amenities: In-unit washer/dryer, oversized windows, designer cabinets, energy-efficient lighting, private patios/balconies, walk-in closets, USB outlets, and programmable thermostats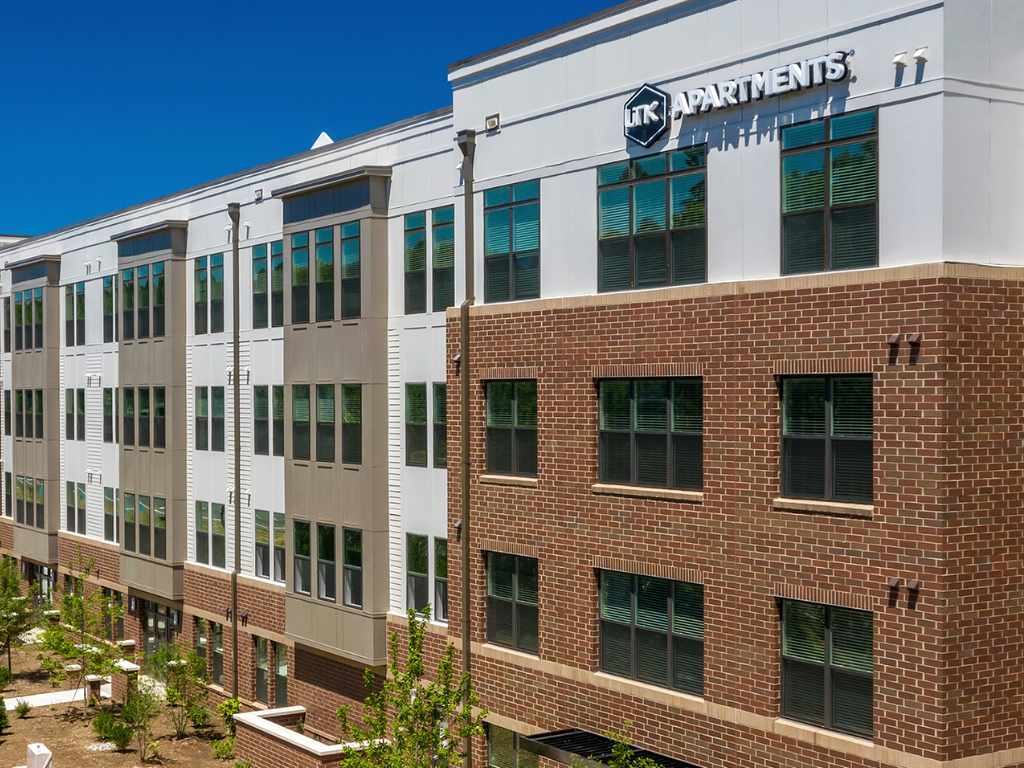 Honoring the Legacy of Glen Lennox
Link Apartments℠ Linden is located in Chapel Hill's Glen Lennox neighborhood. Glen Lennox is a truly unique environment, representing one of the first mid-century modern planned communities in the country. Erected in 1950 at the start of America's "Golden Age," the 70-acre development was a thriving center of living, shopping and industry for its 1,200 residents, the University of North Carolina and the Town of Chapel Hill.
The original residents of Glen Lennox, including many returning World War II GIs and their families, enjoyed modern living among the tree-shaded, curvilinear streets. Today that community is again rising as a vibrant, promising place for a diverse new generation of residents and imaginative companies.
Grubb Properties acquired Glen Lennox in 1986, and the company's founder (and current CEO Clay Grubb's father) Robert Grubb was once a Glen Lennox resident. Since then, Grubb Properties has worked closely with residents, the surrounding community, and the city of Chapel Hill in developing a transformational 20-year development plan that respects its history while modernizing the community for long-term success. Link Apartments℠ Linden is an important part of that plan.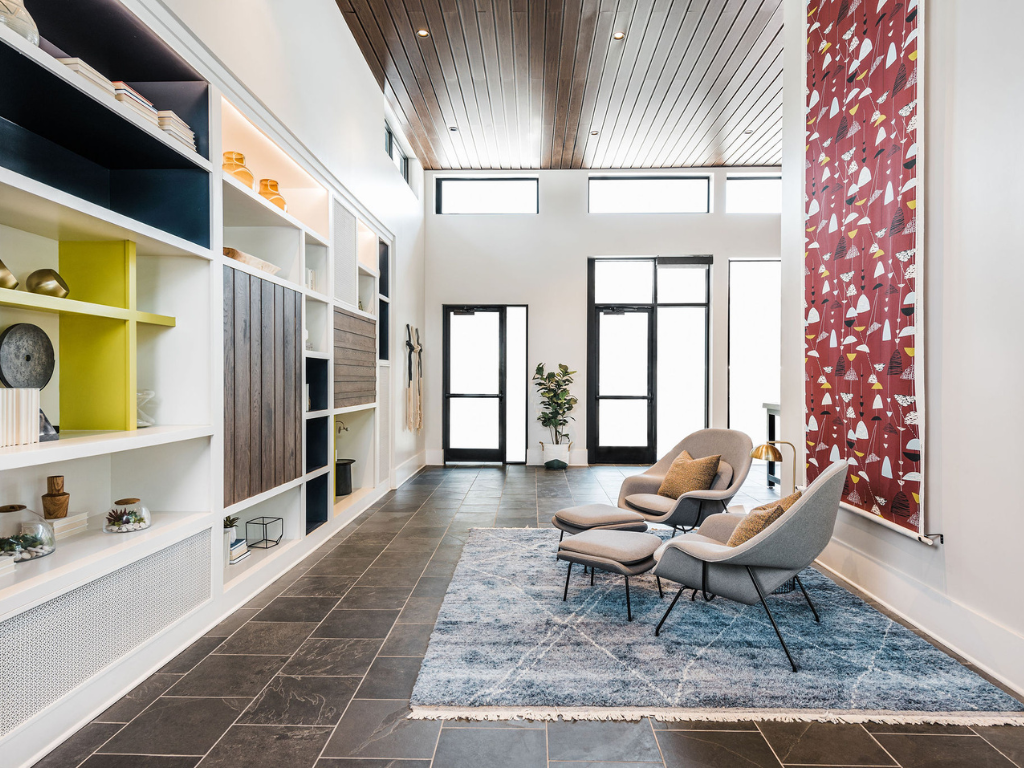 Drawing on the mid-century roots of Glen Lennox, Link Apartments℠ Linden incorporates numerous mid-century details in its design and decoration. This attention to detail even extends to the name of the property: "Linden" refers to a classic textile pattern created by English designer Lucienne Day in the years after World War II. The prolific Day designed a series of non-traditional textile patterns featuring stylized elements from nature, unique textures and unusual color combinations, often with nods to modern and abstract works from artists like Kandinsky, Miro and Paul Klee. Day's work was a refreshing, optimistic revelation to a British population still rebuilding after the war years—Day deliberately kept her early textiles affordable and accessible—and it eventually gained worldwide acclaim.
Providing Essential Housing to the Chapel Hill Community
Grubb Properties' focus on essential housing fits perfectly with the university-adjacent location, appealing to grad students and essential workers at the university's hospitals. Essential housing, targeted to those in the middle of the income spectrum, fills the gap between affordable and luxury housing and is crucial in addressing the shortage of housing in the country today. 
Through a combination of design, location selection and construction efficiencies, Grubb is able to provide renters with the amenities they desire at a price they can afford. For example, Linden, like all new Link Apartments℠ communities, offers six primary floor plans, in comparison to the 25+ available at many competing multifamily developments. These plans have been honed through Grubb's years of experience, and provide efficiencies both for tenants and for Grubb's construction teams.
A Focus on the Environment
Link Apartments℠ Linden was designed for efficiency. It was the first Link Apartments℠ community to achieve the NGBS Silver Certificate, and sets a precedent for all subsequent Link Apartments℠ communities.
The building features:
Energy-efficient windows and 100% LED lighting
Low-flow faucets and shower heads
High-performance Energy-Star® appliances
Community recycling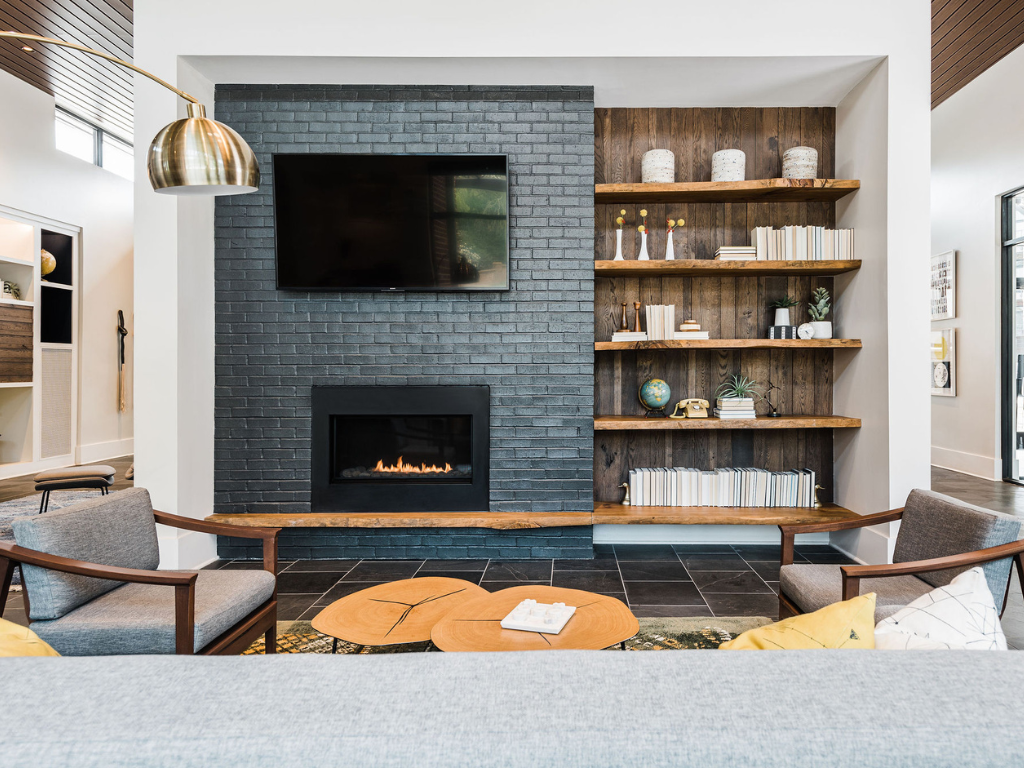 In addition, the complex re-used much of the wood and brick from the buildings that were demolished on the site. Reclaimed wood was used to create a large feature wall behind the front desks, as well as two leasing desks and built-ins. Local artists incorporated reclaimed wood for the artwork in the clubhouse, while a section of the clubhouse exterior wall was built with reclaimed brick.
Grubb Properties has contracted with J&D Tree Pros, an experienced local tree firm, to play a key role in the redevelopment of Glen Lennox, one that will see the addition of 157 trees representing 18 species, along with 1,000 shrubs and nearly 400 flowering annuals and perennials. This systematic replanting will help maintain the property's shady canopy and ensure its health and longevity for decades to come.
Alternative transportation is also an important aspect of Link Apartments℠ Linden's commitment to the environment. Working with bike-infrastructure consultant Copenhagenize and the city of Chapel Hill, Grubb Properties ensured that Link Apartments℠ Linden and the Glen Lennox community are well-served by bike paths, bicycle facilities, walking paths, rideshare hubs, and mass transit connections. Linden even has a shared Tesla available for residents to use, as well as EV charging facilities.
Learn here more about our other investments in action in Chapel Hill.