By Grubb Properties Development Team
Grubb Properties recently announced plans to develop Park at Perimeter Center East, a vibrant, multi-use housing community in Atlanta that will feature a 90,000-square foot skilled nursing facility, 360 units of essential housing real estate in a new Link Apartments℠ community, a 2-acre public park, 13,000 square feet of outdoor dining and retail, and a pedestrian and bike trail connecting the site to the Georgetown neighborhood and Perimeter Mall. Grubb Properties plans to submit its application for rezoning the site in mid-July.
The mixed-use site currently houses vacant parking lots and mid-rise commercial buildings. A rezoning for the site was initially approved in 2018, but shifting market needs and the impact of the pandemic drove Grubb Properties to re-evaluate plans for the project. The new proposal of a lower density than the previously approved plan while still transforming the site into a thriving community. Grubb Properties will be seeking city approval of the nursing facility and 360 units of essential housing, ranging from studios to one-bedrooms.
"Grubb Properties is committed to creating a project that serves as a catalyst for transformative change in the community," said Paul O'Shaughnessy, senior vice president of development at Grubb Properties. "Our plans have pivoted in a way that allows us to bring a key new employer to the city while simultaneously being able to create the highest and best use for the abundant surface parking lots that cover the site. Our hope for Park at Perimeter Center East is to create an active neighborhood that is complementary to Central Perimeter's dynamic economic growth."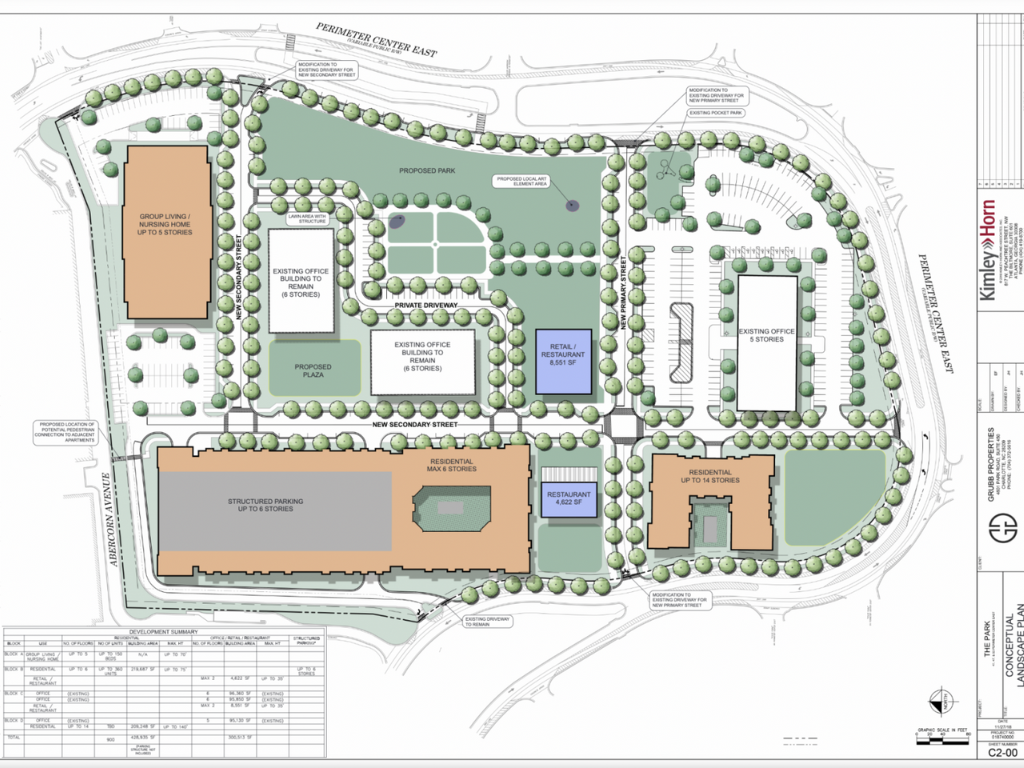 Park at Perimeter Center East is located near Ashford Dunwoody Road, I-185, and key destinations and economic drivers in Dunwoody, including Perimeter Mall, Sandy Springs MARTA Station, numerous hotels, and premier dining and shopping options. The proposed bike trail will be designed in partnership with Copenhagenize, one of the world's top bicycle design and planning companies and a frequent collaborator with Grubb Properties. The cost of the design and construction of the trail would be split evenly between Grubb Properties and the City of Dunwoody.
The Park at Perimeter Center East project is similar to another upcoming Grubb Properties housing community on the other side of Atlanta. Grubb plans to break ground this summer on a Link Apartments℠ project in Smyrna, which will include 277 apartments in a new five-story building and will be constructed on the parking lot of a previously purchased and redeveloped office complex. Located just over one mile from The Battery retail and entertainment complex and the new Truist Park, the project also includes significant retail and office space, green space, and bicycle/pedestrian improvements.
Grubb Properties' other properties in Atlanta currently include the 246-unit Link Apartments℠ Grant Park and the 217-unit George and Leonard Apartments.
Learn more about essential housing and Grubb Properties' approach to Private Equity Real Estate Investing.