An interview with Todd Williams, Chief Investment Officer
Q. Todd, there's been a lot of news about skyrocketing materials costs and labor shortages. How are these developments affecting Grubb's development pipeline?
A: Active management of construction costs is always critical to delivering well-priced essential housing across all business cycles, but even more so in the current inflationary environment.
Fortunately, at Grubb Properties, we have a well-honed, time-tested, and disciplined approach to cost management that is key to our ability to continue to develop essential housing even in the face of inflationary pressures. That's why we haven't slowed our pipeline down, even as other multifamily builders have been forced to the sidelines.
Q. Can you elaborate on Grubb's cost-containment approach?
A: Using our integrated team's full capabilities and a rigorous process that identifies various levers that help keep construction costs in check, we have a long track record of capturing significant savings regardless of the macroeconomic backdrop.
A standard feature of Grubb Properties' cost-management process is our use of Gross Max Price (GMP) agreements with contractors, which limits the company's exposure to price fluctuations.
In addition, Grubb teams track materials prices in order to identify optimal points to "buy out" appropriate packages. For example, we purchased wood framing packages for our Link Apartments Montford Phase II (Charlotte, NC) and Link Apartments 4th Street (Winston-Salem, NC) at two cyclical low points during 2020.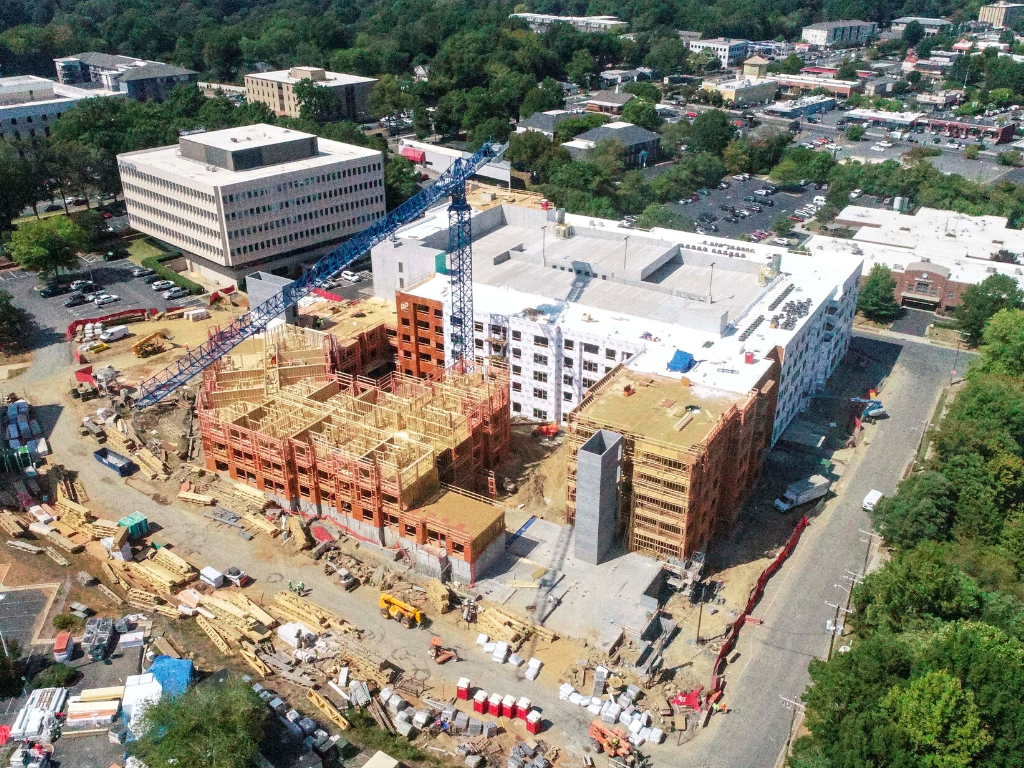 Q. How does the design of Link Apartments lend itself to cost savings?
A: We use just six-floor plans in all our Link Apartments communities as a means to minimize construction waste and maximize standardization of unit finish and fit out. These six plans are duplicated across our Link Apartments portfolio so our general contractor partners can be as efficient as possible with identical units from project to project.
I'll also note that Link Apartments plans themselves are highly efficient, affording residents a monthly rent rate that is lower than peer projects that often have as many as 25-50 separate unit floor plan types that are less efficient.
Q. What cost savings methods do you deploy at a construction site?
A: Our vertical integration also enhances cost savings. Link Apartment construction projects are aggressively managed with three assigned team members—a developer, a project manager, and an on-site construction representative (OSR). The OSR directly oversees the general contractor to ensure adherence to schedule and construction quality, which helps minimize in-the-field problems that result in change orders that generate additional costs.
Q. Any final thoughts?
A: We deploy a host of additional techniques that further drive costs down including: reducing built parking through shared parking with commercial; brownfield development that results in partial property tax abatement; investment in sustainability methods to lower operating expenses; sourcing free and virtually no-cost land through purchases of office buildings with surface parking lots that can be converted to multifamily housing sites.
We have experienced and driven teammates across our integrated model who know their jobs and execute well. I believe we've performed well in multiple macroeconomic environments because we work diligently for our investors and, ultimately, our residents by adhering tightly to our cost-mitigation processes.
If you have any questions about Grubb's cost-containment procedures, please don't hesitate to reach out essentialhousing@grubbproperties.com.