By James Hochman, Chief Financial Officer, and Frank Tetel, Managing Director, Acquisitions
Grubb Properties has recently announced new Link Apartments℠ communities in some of the tightest real estate markets in the country: New York, the Bay Area, and Los Angeles.

In a previous blog post, we discussed the diversification benefits of adding these gateway markets to our portfolio. Market dislocations created by the pandemic created the opportunity to acquire these locations at prices that made sense for essential housing, even as most of our competitors were flooding into our more traditional southeastern markets. We believe that these gateway markets, which are now seeing record demand with limited supply in the pipeline, are poised to see future rent growth.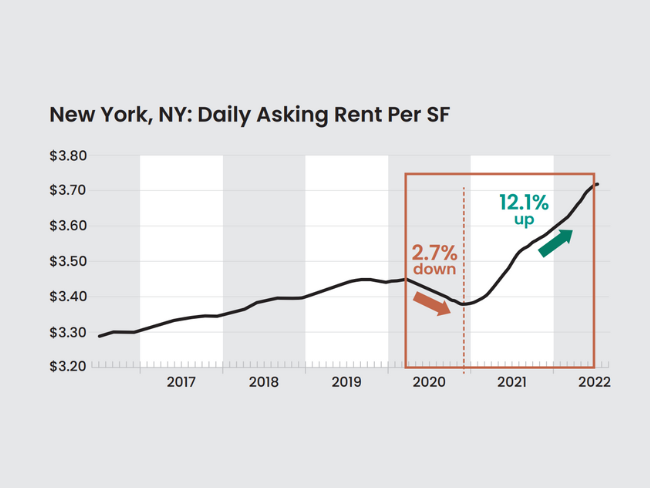 New York City, the largest U.S. metropolitan market, has seen residential real estate fundamentals fully recover from the pandemic. Rents are higher than ever, with 6.3% multifamily rent growth over the past 12 months. Rent growth is forecasted to remain above pre-pandemic levels for the next four years, and limited new housing supply going forward means that demand will remain high. 

One main factor limiting supply is the expiration of the 421a Affordable New York program in June 2022, with no replacement program in sight. This program was used in nearly every significant residential project in the city for 50 years, and its expiration closes the window of opportunity for developers to build in the thriving but expensive gateway market. 

Grubb Properties' two forthcoming New York City multifamily communities were able to qualify for the program before its expiration. Under 421a, 30% of the units at these projects will be affordable for 40 years. In exchange, the developments are entitled to a 38-year tax abatement (three years during construction and 35 years thereafter). For Link Apartments℠ 8 Carlisle, this equates to savings of approximately $350 million. For Link Apartments℠ Queens Plaza, it amounts to about $308 million. The remaining 70% of units in each development will be market-rate units that are not subject to any rent stabilization requirements, presenting more potential upside on rent growth.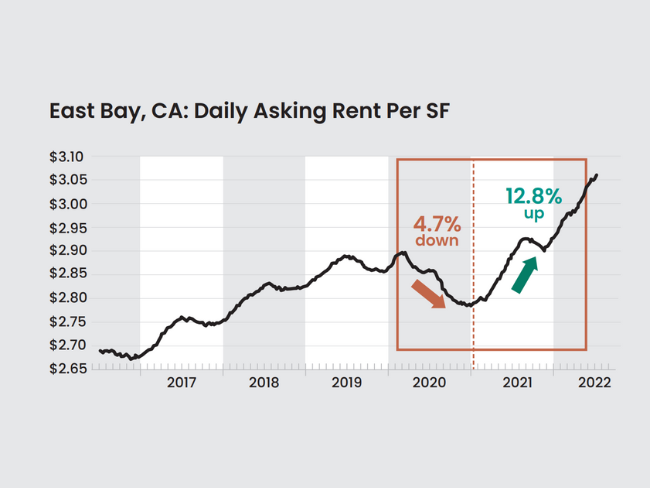 The Bay Area features some of the most expensive housing markets in the United States, with limited new supply. The speed of recovery from the pandemic varied significantly between submarkets, but occupancy and rents across the metro finally exceeded pre-pandemic levels in 2022. Over the past 12 months, San Francisco's multifamily rent growth was 5.5%; East Bay's was 6.9%, and San Jose's was 12.9%. Rent growth is forecasted to remain above pre-pandemic levels for the next three years. 

The Bay Area is the gateway market where our portfolio currently has the lowest exposure, so we are highly selective in evaluating which submarkets and neighborhoods to enter.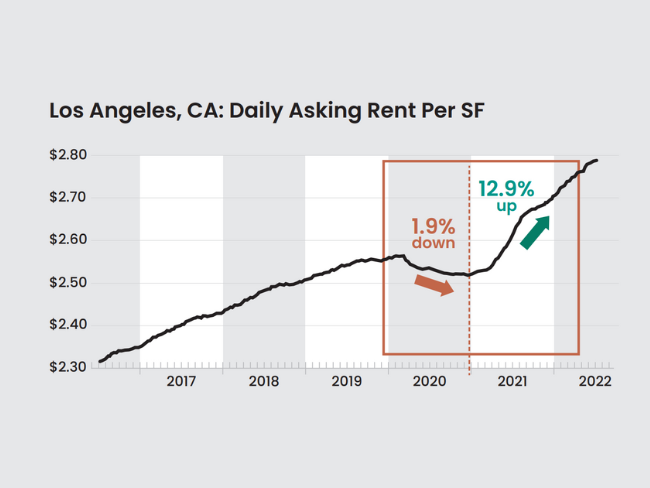 Los Angeles, the second-largest U.S. metro market, has the highest percentage of renters among its peers, with approximately half of all households renting due to the high cost of home ownership. This demand drove significant increases in occupancy and rent levels beginning in mid-2021, with 7.1% multifamily rent growth over the past 12 months. Rent growth is forecasted above pre-pandemic levels for the next four years.
 
In Los Angeles, we look to submarkets with employment growth and ongoing urbanization, such as Koreatown, West Hollywood, and East Hollywood. Many of these communities are also designated as Opportunity Zones, which are a natural fit for our essential housing strategy through Link Apartments℠. 

The preceding article was excerpted from "Developing a Resilient, Balanced Market Strategy," a new white paper from Grubb Properties. Download the full paper.