By Clay Grubb, CEO

Dear investors, 
I am proud to report that our Link ApartmentsSM portfolio performed well, producing a 5% year-over-year increase in revenue for the second quarter, despite a national decline in rent growth. Amazingly, our stabilized commercial portfolio produced a 23% year-over-year increase in revenue. Unfortunately, this performance did little to stem the massive decline in the value of office buildings. Currently, the capital markets have completely shunned office, decreasing values by a significant, but difficult-to-quantify, factor. It is my estimation that the entire sector has seen a decline of close to 50%. 
 
Playing defense in 2023
For the first time since the Global Financial Crisis, we are taking a more defensive approach to multifamily property management in response to overall economic headwinds. We are being much less aggressive on rental increases and continuing to emphasize customer service to boost retention. In June, less than 25% of our new move-ins had a single service request, and 98.87% of all service requests from existing and new residents were completed satisfactorily in under 24 hours. This type of service is going to allow us to continue to produce positive results and continue our historical track record of outperforming the national average for renewals of existing residents. 
While the 500-basis-point increase in interest rates, the disappearance of significant investment capital, and the complete demise of office values have been extremely painful, I am confident that we are near the bottom. There is a high probability of a recession in 2024, but that is likely to boost real estate values as a recession should result in a decline in interest rates. We also anticipate we will continue to see positive rental growth in many of our markets even during a recession. A recent Blackstone report noted two key differences in today's real estate environment compared to the one in the Global Financial Crisis of 2008. First, supply is 40% lower today than it was then, meaning we have just 60% of the completions for real estate than we were experiencing then. Second, the average leverage is 48% lower, which means most of our lending institutions are significantly healthier, as are many real estate companies.
Our mantra has long been location, basis, and design. Those three criteria combined have allowed us to create strong returns over the past two decades, and we believe they will be key components to value creation over the next two as well. Our team has been extremely busy trying to add value through these principles wherever possible.
 
In 2022, we temporarily halted some of our projects due to the spike in construction costs. While this was a painful decision, we are confident it was the correct one. We believe this year saw the peak in costs for both construction and financing, and we expect that both will start to provide relief in 2024, allowing us to move forward with construction and increase margins on new projects. 
 
Gaining an edge through entitlements
While many of our competitors accelerated construction this past year, we instead focused our efforts on one of the components of real estate that few fund managers offer, which is the ability to improve entitlements through the zoning process.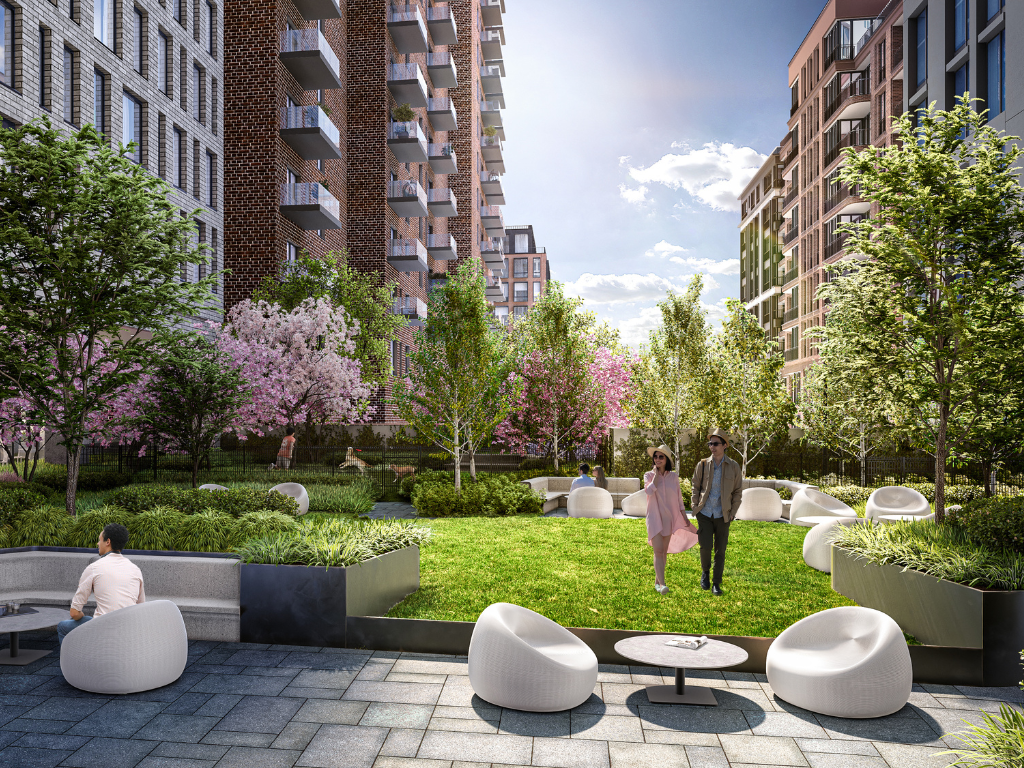 Entitlements, along with other subsidies, can add significant value to your investments. As a reference point, land for apartments in the Southeast is typically worth between $25k/unit and $40k/unit; in California $150k/unit to $250k/unit; and in Manhattan it can be as much as $400k/unit. We pursue every practical angle to add value to your investment, as illustrated by these recent wins and other initiatives: 
Link ApartmentsSM Rosemary, Chapel Hill, NC  – we received unanimous approval from the Town of Chapel Hill to build 150 apartments at the corner of Rosemary and Martin Luther King Boulevard.
Link ApartmentsSM Broad Avenue, Memphis, TN  – the City of Memphis approved a PILOT providing the equivalent of a 15-year tax abatement for our potential phase II. We successfully secured the same PILOT for phase I. 
Link ApartmentsSM 8 Carlisle, New York, NY  – in addition to securing the Quality Housing and Green Zone density bonuses for an additional 73 units, and the 421a affordable housing program that is anticipated to provide approximately $350 million in tax abatements over 35 years if developed in time, we secured a brownfield agreement providing tax credits and other abatements valued at just under $15 million. 
Link ApartmentsSM Calyx I & II, Chapel Hill, NC  – the town staff has approved our request to decrease the required parking. 
Link ApartmentsSM QPN, New York, NY – we were able to add 116 additional units by taking advantage of three programs, including an agreement with the MTA to build a new fully accessible entry to the subway. We also secured a 421a program that, if developed in time, is anticipated to save us more than $250 million in taxes. In addition, we were accepted into a brownfields program that we expect will provide $38.5 million toward the project. 
Link ApartmentsSM Hempstead, Hempstead, NY – our team secured a PILOT that is equivalent to a tax abatement over 25 years.
 
Positioning our portfolio for future success
I'm also happy to report that our diligent research and disciplined investment approach toward climate resiliency is paying off. The best example is insurance costs, which have risen tremendously this past year. While we are expecting above-average rate increases, we do not expect them to be anything like those of our peers operating in coastal markets, where we have heard of some properties experiencing more than 400% increases.
 
Of course, the most important consideration for any investment is supply and demand. While the past 12 months have seen record new apartment starts – the most since before the Global Financial Crisis – the vast majority of these new developments are in markets in which we have no exposure. In fact, the entire state of Texas reported negative rental growth of 3.98% this past quarter according to Rent.com. In the alternative, because of limited construction, Manhattan – the market with Link ApartmentsSM 8 Carlisle – reported 7.8% rental growth in June, according to a study by the Steven L. Newman Real Estate Institute at Baruch College. That study also found that during this past quarter, total employment in Manhattan surpassed pre-pandemic highs.
Even with this increase in new construction, we expect demographic trends to continue to drive demand. With a record number of 15- to 30-year-olds in America, we expect the demand for value-oriented apartments to continue to grow faster than any other segment of the housing sector. Blackstone's report says the United States has a housing deficit of more than five million homes. This imbalance provides significant tailwinds to our current strategy.
We have spent a lot of time over the past year discussing alternative investments to make sure we are maximizing returns. However, we concluded with a firm belief that our current focused approach to Link ApartmentsSM will produce the greatest return for you, our investors.
 
We believe the coming year will be a great time to make new long-term investments in the essential housing asset class. While many investors are attracted by the short-term allure of achieving 12% to 14% yields for credit investments, we believe that too much focus on this trend is short-sighted. There is a good chance those yields will be difficult to duplicate in a few years when all those loans are paid in full. We anticipate that over the next year, we will be able to secure investments with greater yields over longer horizons by deploying equity into new essential housing opportunities. History has shown that developing during times of economic stress often provides great returns. Although challenging times can be unnerving, I am confident we will not only come out of the other side stronger and healthier, but also proud of what we have accomplished.
 
Thank you for your support!
 
Sincerely,


Clay Grubb, CEO

Click here to get more information about investment opportunities with Grubb Properties.